Browen (Br/ee and Owen) is the romantic pairing of Bree Davenport and Owen. Owen was Bree's third love interest.
Other Names
Owee (Ow/en + Br/ee)
Breowen (Bre/e + Owen)
Brewen (Bre/e + O/wen)
Breewen (Bree + O/wen)
Moments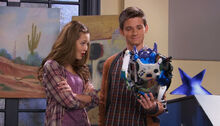 Quarantined
They were texting each other.
Owen texted Bree 'hi.'
Bree wanted to go to Owen's art exhibition.
Owen made a painting of Bree.
Owen said Bree is his muse.
Spike's Got Talent
Bree told the others Owen was so tortured, and asked if it was great.
They wanted to do different things.
Owen didn't like any of Bree's idea, but he liked Adam's.
Owen left, which made Bree sad because she wanted to do something together with him.
Bree let the Butter-Perry melt because she was jealous.
Bree wanted to make it up to Owen.
The Haunting of Mission Creek High
They were painting on each other.
Ad blocker interference detected!
Wikia is a free-to-use site that makes money from advertising. We have a modified experience for viewers using ad blockers

Wikia is not accessible if you've made further modifications. Remove the custom ad blocker rule(s) and the page will load as expected.