Davenportia is Donald Davenport's colony he built on a planet called Lithios in space. It appeared in the episode Space Colony. At the end of the episode Space Colony, it is revealed Donald lost his colony.
Trivia
Its dome mimics Earth's atmosphere.
There are several transparent exit tunnels and a shuttle dock.
Lithios and its colony are not located in the Milky Way but in another unknown galaxy.
In the episode Face Off, Donald states that he has big changes coming up for Davenport Industries. He may have meant Davenportia and the Davenport Bionic Academy.
It's unknown when Donald had built it but it may explain why he was absent from the Bionic Academy so many times.
Davenportia is also what Donald calls the lab in The Rats Strike Back.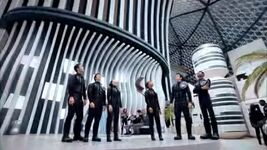 Gallery
Ad blocker interference detected!
Wikia is a free-to-use site that makes money from advertising. We have a modified experience for viewers using ad blockers

Wikia is not accessible if you've made further modifications. Remove the custom ad blocker rule(s) and the page will load as expected.