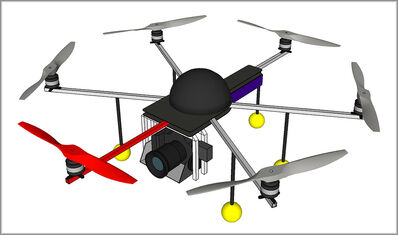 The Hexacopter was seen in Bionic Birthday Fail. It was Donald's gift for Leo. It is controlled via a pad that reads your mind. Donald decided to play with it and it broke before he could even give it to Leo. He made a second version, which also broke.
Trivia
It appears to be fragile because it broke twice.
The Hexacopter may only be able to work just one time. However, this may be because it was only in the prototype phase.
It is based off of an RC quad-rotor, which is a common toy.
The Hexacopter is hard to control as said by Leo. Leo said that he was thinking "don't crash into the door" which the Hexacopter read as crash into the door.
This has only appeared in Bionic Birthday Fail.
Ad blocker interference detected!
Wikia is a free-to-use site that makes money from advertising. We have a modified experience for viewers using ad blockers

Wikia is not accessible if you've made further modifications. Remove the custom ad blocker rule(s) and the page will load as expected.