"
I'm saying you're not my friends, because you're my brothers.
"
"Leo's Jam"

Season 1, Episode 4

Information
Air Date

March 12, 2012

Prod. code

105

Writer(s)

Heather Flanders

Director

"Victor Gonzalez"

Episode Guide
Previous
Next
"Leo's Jam" is the 4th episode in Season 1 of Lab Rats. It first aired on March 12, 2012.
Plot
When Leo needs help asking Danielle out to the school dance, Adam and Chase step in to help, but the plan backfires when she falls for the wrong brother every time. Meanwhile, Bree is scared to ask out her crush, Ethan, to the school dance. At the school dance, Danielle asks Chase if he wants to go out with her. Chase does the cool 'Refrigerator Dance' as told by Leo. Danielle gets creeped out and dumps Chase. Then, Adam decides to dance with Danielle and accidentally throws her into the ceiling, but then catches her. Once again, Danielle dumps Adam and watches Leo's performance. She was impressed and wanted to dance with him. Meanwhile, Bree finally started to dance with Ethan but spins out of the room from super-speeding while spinning. Leo then apologizes to Adam and Chase for stealing their girl. They accept the apology and they find a girl to chase after. For the final scene, they show Leo and the Lab Rats dancing for the school, starting with Chase, then Adam, then Leo, and lastly Bree.
Cast
Main Cast
Recurring Cast
Garrett Backstorm as Ethan
Guest Cast
Trivia
Hal Sparks, who plays Donald Davenport, was absent for this episode. This is the first time a main character is absent.
It is revealed that Leo has an aunt, Janice and is a part of Tasha's book club.
It is revealed that Leo can dance.
This is the first episode named after a character.
Quotes
"
Okay, you say not to do something, and you do the exact same thing. You're a total hypnotist!
"

— Adam to Chase
"
Hey, all is fair in love and fake locker accidents.
"

— Adam
"
Adam: (happily) Aww, where's Danielle? She dump you already?

Chase: No. She's in the bathroom.

Adam: Ah, she's probably climbing out of the window to get away from you.

"

— Adam and Chase about Danielle
"
Ethan: You know how long it took me to build the courage to walk over here and ask you to the dance? I had to practice with my mom.

Bree: Did she at least say yes?

Ethan: Yeah. We're going bowling Friday night.

"

— Ethan and Bree
"
You stole my woman. Where I come from we call that a love crime.
"

— Leo
"
Hey, all is fair in love and fake locker accidents.
"

— Adam
Gallery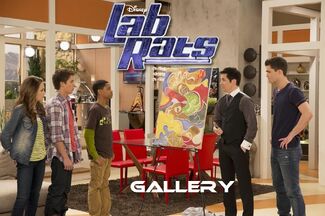 The image gallery for Leo's Jam may be viewed here.
Video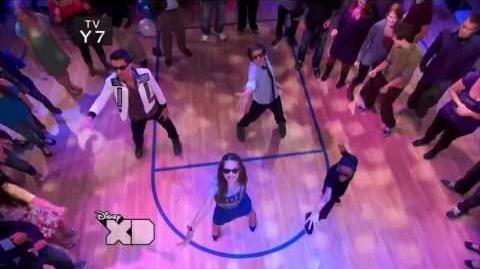 Transcript
| | | |
| --- | --- | --- |
| | For a full transcript of Leo's Jam, click here. | |
Userbox
My favorite episode is
Leo's Jam!
Codename:Leo'sJam