"Llama Drama"

Season 2, Episode 18

Information
Air Date

September 30, 2013

Writer(s)

Ken Blankstein

Director

Guy Distad

Production Code:

216

Episode Guide
Previous

"Adam Up"

Next
"Llama Drama" is the 18th episode in Season 2. It first aired September 30, 2013.
Plot
Principal Perry assigns students to watch over the Dooey Dingo costume, because the rival school always steals it. When the school mascot's Dooey Dingo costume is stolen by the rival team on Adam and Chase's shift, Adam seeks revenge by taking their mascot, a llama. When Chase and Adam try to return the llama they discover that the animal has swallowed hundreds of Davenport's mechanical nanobots causing it to shoot acidic spit. Meanwhile Bree and Leo compete in the "domino domination" with Caitlin but decide to form their own team and compete against caitlin.
Cast
Guest Cast
Gallery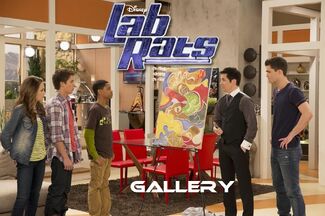 The image gallery for Llama Drama may be viewed here.
Transcript
For a full transcript of Llama Drama, click here.