"
I'm your new friend Teddy. Spoiler alert! I'm not your friend.
"

"Night of the Living Virus" is the 17th episode in Season 1 of Lab Rats. It first aired on October 15, 2012. It features the first and only appearance of Teddy
Plot
Leo desperately wants to be Davenport's lab assistant, but he accidentally corrupts the smart-home system, turning Eddy into an evil demonic virus named Teddy. Meanwhile, Bree holds a sleepover with her friends, unaware that they only wanted to come because of the house she lives in, while Adam and Chase try to pull pranks on the girls.
Cast
Main Cast
Recurring Cast
Trivia
Goofs
Chase's hair is long again even though Billy Unger cut it (as seen in Air Leo). By the time Air Leo aired, this episode wasn't yet broadcast. But the production code says that the episode should've aired before episodes where Chase's hair gets long.
Chase could have and should have used his force field to protect himself from the lasers while Adam uses his heat vision from behind Chase.
It was said that Stephanie only went to Bree's sleepover because of the Davenport's house. However, when she first arrived, it was seen that she was checking out the house for the first time.

Although this could be just because she heard about the house before. 
Quotes
"
Leo: Well, I keep telling you I'd love to work with you in the lab.

Donald: Yeah, and I keep telling you I don't want to die in a fiery explosion.

"

— Leo and Donald
"
What did you DO? I feel sick. Ones and zeros are flying out of both ends!
"

— Eddy to Leo
"
Leo, buddy, next time, try not to mention our secret plan IN FRONT OF THE GIANT FLAMING SKULL!
"

— Donald to Leo
"
In a horror movie, the first person to leave the room always gets killed. After you, Adam.
"

— Chase
Gallery
The image gallery for Night of the Living Virus may be viewed here.
Transcript
| | |
| --- | --- |
| | For a full transcript of Night of the Living Virus, click here. |
Videos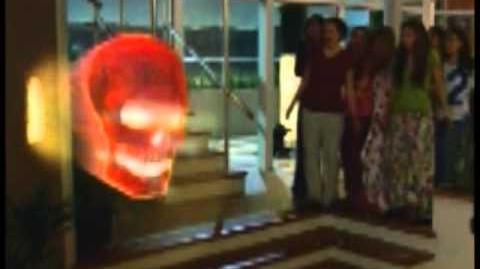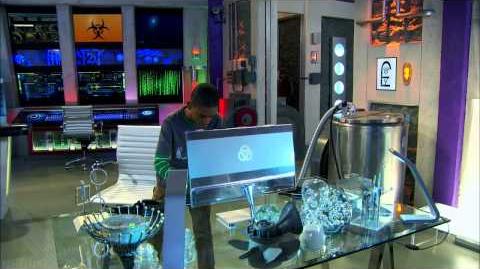 Userbox
Code:NightOfTheLivingVirus
| | |
| --- | --- |
| | My favorite episode is Night of the Living Virus! |
Ad blocker interference detected!
Wikia is a free-to-use site that makes money from advertising. We have a modified experience for viewers using ad blockers

Wikia is not accessible if you've made further modifications. Remove the custom ad blocker rule(s) and the page will load as expected.