On May 18, 2012, Disney XD announced that they had renewed Lab Rats for a second season. It consists of 26 episodes. The filming started on August 22, 2012. The first episode was released on February 25, 2013. The season finale was released on January 13, 2014. The premiere episode of this season was Speed Trapped. The finale episode of this season was No Going Back. This was the only season which doesn't have a one-hour special as the premiere episode.
Episodes
Cast
Main Cast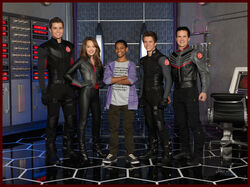 Recurring Cast
Guest Cast
Special Guest Cast
Trivia
Spike returns in the episode Spike's Got Talent.
This season had one 1 hour special. (Bionic Showdown)
This season revealed Douglas being Adam, Bree and Chase's father.
Hal Sparks was absent for six episodes.
This is the only season with the season premiere not being a 1 hour special.
This is the last season with the old lab.
This is the last season where Leo isn't bionic.
Theme Song
Poll
References
http://www.broadwayworld.com/bwwtv/article/Disney-XD-Announces-January-2014-Programming-Highlights-20131218#
Ad blocker interference detected!
Wikia is a free-to-use site that makes money from advertising. We have a modified experience for viewers using ad blockers

Wikia is not accessible if you've made further modifications. Remove the custom ad blocker rule(s) and the page will load as expected.