Spencer Boldman

Biographical
Full Name

Spencer Thomas Boldman

Gender

Male

Date of Birth

July 28, 1992

Place of Birth

Dallas, Texas, U.S

Height

6'0

Eye Color

Brown

Hair Color

Black

Occupation

Actor
Spencer Boldman is an American actor born in Dallas, Texas. His current age is 21. He stars in the Disney XD show Lab Rats as 18 year old Adam Davenport. He is known for his roles in 21 Jump Street, I'm in the Band and JESSIE.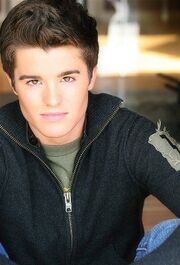 Trivia
He has done a "My Life" segment on Disney XD
He is from Dallas, Texas
His birthday is July 28, 1992
He is currently 21 years old
He plays Adam Davenport
He has been on other Disney XD shows
He has guest starred on the Disney Channel show, JESSIE (Ted, Jessie's former boyfriend), I'm in the Band (Bryce Johnson), and Nickelodeon's iCarly (Nate).
He is the third person from Lab Rats to guest star on Disney Channel, the first being Tyrel Jackson Williams on Good Luck Charlie, and the second being Billy Unger on A.N.T Farm 
He will star in a Disney Channel Original Movie Zapped, alongside with Zendaya Coleman.