"The Bionic 500"

Season 2, Episode 13

Information
Air Date

July 22, 2013

Writer(s)

Julia Miranda

Episode Guide
Previous
Next
This is the 13th episode of the second season and the 33rd episode of the series (counting "Crush, Chop, and Burn" as 1 episode).
Plot
Davenport and his obnoxious neighbor agree to settle their differences with a Stock Car race. However, it turns out the neighbor hired Joey Logano as his driver.
Cast
Main Cast
Recurring Cast
Guest Cast
Joey Logano as himself
Craig Zimmerman as Pierce Harrington
JT Neal as Clayton Harrington
Trivia
This episode featured actual racecar driver Joey Logano.
It was said that Davenport gets car sick 'Just driving to the store.'
It was claimed that Leo's sleep takes 8 hours to keep his fresh, 10 for the "Leo glow."
Video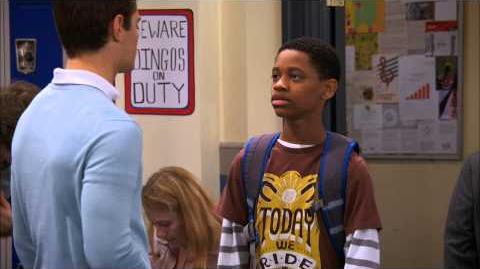 To view the Gallery for Bionic 500, click here