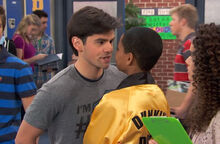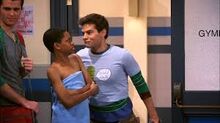 Other Names
Lent (Le/o and Tre/nt)
Treno (Tren/t and Le/o)
Moments
When Trent sniffed Leo, he stepped back.
Leo and Trent go against each other in a basketball game.
Trent starts rhyming like Leo.
Leo uses air sneakers to try and beat Trent.
Trent steals Leo's air sneakers.
Leo is shocked when he found out Trent stole the sneakers.
Leo doesn't think he can beat Trent without the sneakers.
Leo tries to trick Trent.
Leo, after being convinced by Janelle, goes against Trent without the sneakers.
Leo figures out that Trent is afraid of ghosts.
Trent steals Leo's clothes.
Trent calls Leo "Jacket Head."
Leo confesses to Trent that they were tricking him.
Trent says thanks to Leo.
Trent tells Leo he'll give him Tuesdays off and Leo accepts.
Trent says he'll put underwear on Leo's head.
Leo says Trent belongs at a gas station.
Leo didn't want Trent to be principal.
Leo's orbs attacked Trent.
Gallery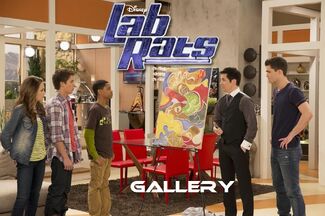 The image gallery for Treo may be viewed here.
Ad blocker interference detected!
Wikia is a free-to-use site that makes money from advertising. We have a modified experience for viewers using ad blockers

Wikia is not accessible if you've made further modifications. Remove the custom ad blocker rule(s) and the page will load as expected.